Blending classic California Mission-style design with modern European elegance, Vina Robles offers a unique combination of soaring interiors and outdoor luxury.
Vina Robles lays in the heart of charming Paso Robles wine country on California's Central Coast. Halfway between Los Angeles and San Francisco and only forty minutes from San Luis Obispo County Regional Airport, the region serves as a gateway to all of California's major metropolitan areas.
Whether you are planning a last minute elopement or elaborate celebration, Vina Robles' event specialists are looking forward to setting your stage for romantic bliss.
Wedding Venues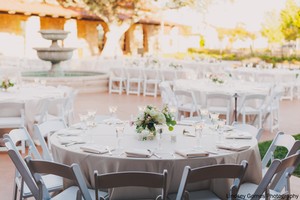 Jardine Court
Circular outdoor courtyard that is ideally suited for wedding receptions. It includes a three-tier fountain and grand oak trees that will enhance the overall ambiance of your special event.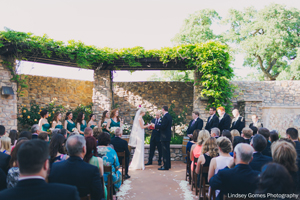 Petite Terrace
Serene and private outdoor patio with a beautiful wall fountain, grand oak tree and an outdoor kitchen that can be arranged to accommodate all your needs, from exchanging vows to hosting a formal outdoor reception to a casual lounge for cocktail hour or dancing.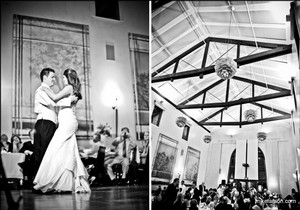 Signature Room
A unique balance of modern luxury and old world charm. Offering vaulted ceilings, large picture windows and cutting-edge audiovisual technology, the Signature Room is an ideal venue for wedding receptions and offers ample space for dining, dancing and entertaining.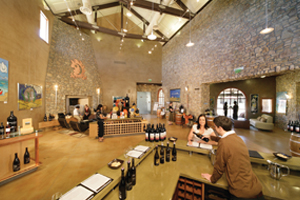 Tasting Room
The heart of the Vina Robles Hospitality Center, featuring vaulted ceilings, a wood-burning fireplace and a large picture window with stunning views. This versatile area beckons intimate events and large cocktail parties alike.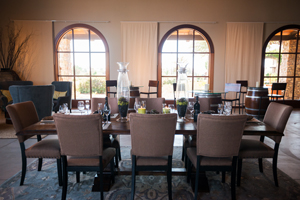 Club Lounge
Intimate venue featuring vaulted ceilings, wood-framed windows and cozy seating areas. This luxurious space offers the perfect environment for rehearsal dinners, cocktail hours, indoor ceremonies, or small receptions.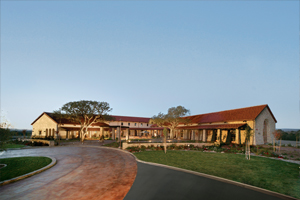 Hospitality Center
Rent our entire Hospitality Center for your special day and use the multiple indoor and outdoor venues available to personalize your event and make your dream wedding a reality.
Vina Robles Site Map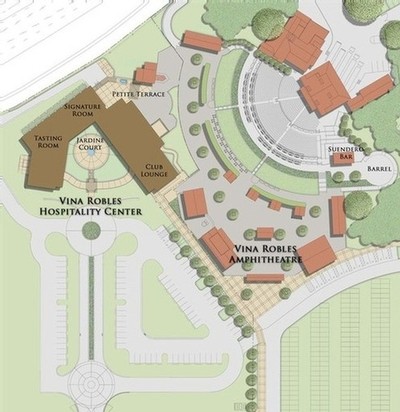 Vina Robles offers a number of breathtaking outdoor venues and elegant indoor spaces for your ceremony and reception. The multiple venues make it possible to host intimate gatherings as well as grand affairs alike. Many venues connect to each other, which means that groups can use multiple areas at the same time or seamlessly move from one space to another.
If you are interested in acquiring information about wedding ceremony and reception options at the Vina Robles Amphitheatre, please contact your Vina Robles Event Manager.