Harvest Stew with Brussels & Grapes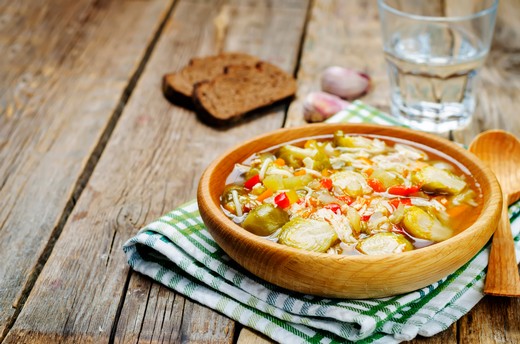 Recipe Date:
October 29, 2015
Measurements:
Imperial (US)
Ingredients
braised pork
4 tbsps olive oil
1 small onion, thinly sliced
1/2 lb brussels sprouts, halved
1 cup chicken stock
1/2 tsp sea salt & cracked, black pepper
1 lb beef tips (tender for sautéing)
1/2 tsp sea salt & cracked, black pepper
1 tbsp thyme, finely chopped
2 ozs Vina Robles Suendero
2 cups red grapes, seedless
Directions
Open a bottle of Vina Robles Suendero, and pour yourself a glass!
In a larger pot, heat up half of the olive oil, add the onions, and steam for about 2 minutes.
Add the brussels sprouts, chicken stock and seasoning. Cover and braise on low heat for about 20 minutes.
In a large sauté pan, heat up the remaining olive oil. Season the meat with salt and pepper and sauté on high heat for about 3-4 minutes.
Add the Vina Robles Suendero, the red grapes and the thyme. Bring to a boil.
Mix the sautéed meat with the braised brussels sprouts, and serve on warm plates. Enjoy with the rest of the Suendero!
Hints
Serve with roasted or mashed potatoes.
Substitute brussels sprouts with cubed pumpkin (e.g. butternut).