'Signature' Lamb Skewers & Couscous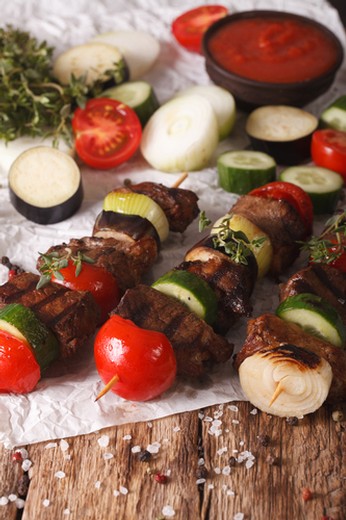 Recipe Date:
November 5, 2015
Measurements:
Imperial (US)
Ingredients
1 lb lamb tips, cubed (e.g. from shoulder)
2 tbsps Vina Robles Signature
4 tbsps olive oil
1/2 tsp sea salt & cracked, black pepper
1 tbsp rosemary, finely chopped
1/2 tsp fennel seeds
1 tsp mustard seeds, crushed
16 skewers (each approx. 5 inches long)
3 1/2 cups water, salted
1 each red pepper, zucchini & onion, diced
1 cup cherry tomatoes
3 cups couscous (whole grain or regular)
1/2 bunch cilantro, coarsely chopped
Directions
Open a bottle of Vina Robles Signature, and pour yourself a glass!

In a bowl, combine meat, red wine, half of the olive oil, and all the spices. Cover and let marinade for approximately 30 minutes, then thread the lamb cubes onto skewers.

In a large pan, bring the salted water to a boil. Add the rest of the olive oil, diced red peppers, zucchini, onion, and cherry tomatoes and let simmer for a minute. Add couscous, cover, and turn heat off.

In the meantime, BBQ the lamb skewers over medium to high heat for approximately 6 to 8 minutes (medium recommended). Mix couscous and add cilantro.

Serve skewers over couscous on warm plates. Enjoy with the rest of the Signature!
Hints
Substitute lamb tips with beef tips.

Easy Mint Sauce: mix together 1 cup plain yogurt, 2 tbsp chopped mint leaves, and season with salt & pepper.