BBQ Pork Towers with Thyme-Mustard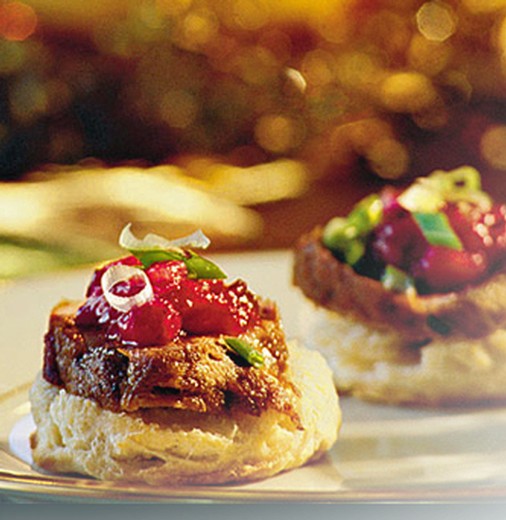 Recipe Date:
November 19, 2015
Measurements:
Imperial (US)
Ingredients
2 tbsps olive oil
1 tbsp cahoots
1 pork tenderloin (approx. 3/4 lbs)
4 ozs whole grain mustard
1 oz liquid honey
2 tbsps fresh thyme, roughly chopped
black pepper, cracked
1 red bell pepper, quartered and sliced into strips
1 French-style baguette, cut into 1/2 inch slices
Directions
Open a bottle of Vina Robles Cabernet Sauvignon, and pour yourself a glass!
Brush the pork loin with the olive oil and season with Cahoots "House Rub" Seasoning. Let marinade for about 30 minutes and BBQ on medium heat on all sides for approximately 25 minutes. Cover with aluminum foil and let rest for about 15 minutes.
Mix the mustard, the honey and the thyme in a small bowl, season with cracked black pepper.
In a small pan, heat up a little bit of olive oil, add the peppers and sauté on high heat for approximately 1-2 minutes. Season to taste with salt and pepper and set aside.
Arranging the towers: slice tenderloin in ½ inch thick slices and place on top of the sliced bread. Garnish with the red peppers and drizzle with the thyme-mustard.
Enjoy with the rest of the Vina Robles Cabernet Sauvignon.
Hints
Serve with a nice mixed green salad.
Substitute Cahoots "House Rub" with your regular BBQ seasoning.
Grill the baguette slices on the BBQ for a superb crispy taste!