Bolognese Sauce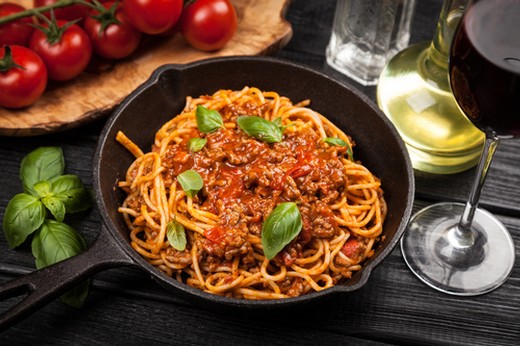 Recipe Date:
November 19, 2015
Measurements:
Imperial (US)
Ingredients
3 tbsps olive oil
1 1/2 lbs ground beef
2 each carrots, celery stalks, cut into small cubes
1 red onion, thinly sliced
2 tbsps cahoots
4 tbsps tomato paste
1 cup Vina Robles The Arborist
1 larage can diced tomatoes & juice (28oz)
2 each bay leaves & cloves
2 tbsps Tuscan Sunset herb blend
1 cup water
Directions
Open a bottle of Vina Robles The Arborist, and pour yourself a glass!
Heat up half of the olive oil in a large, deep frying pan. Add half of the meat and sauté on high heat for about 5 minutes. Take meat out of the frying pan and set aside.
Heat up the rest of the olive oil, and add the rest of the meat, carrots, celery and diced onions. Sauté on high heat for about 5 minutes. Add the Cahoots "House Rub" Seasoning and the tomato paste, and continue sautéing for about 2 minutes.
Deglaze with the Vina Robles The Arborist. Bring to a boil and add the diced tomatoes, bay leaves, the Tuscan Sunset herb blend, and the water.
Cover pan with a lid, and let the sauce simmer on low heat for about 1 hour, stir occasionally.
Serve over your favorite pasta, and enjoy with the rest of the Vina Robles The Arborist.
Hints
Serve with fresh grated parmesan cheese.
Substitute ground beef with ground turkey.