Braised Pork Shanks with Chimichurri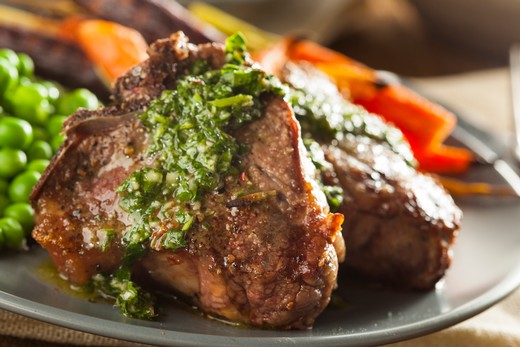 Recipe Date:
November 8, 2016
Measurements:
Imperial (US)
Ingredients
Braised Pork Shanks
6 pork shanks
3 carrots, peeled, rough chopped
2 red onions, peeled, rough chopped
4 qt. beef stock or broth
6 ozs tomato paste
2 tbsps olive oil
2 cups Vina Robles Tannat
salt and pepper to taste
Chimichurri
1 1/2 cups cilantro, fresh
1 1/2 cups parsley, fresh
1 jalapeno, stemmed, seeded
1 shallots
1 clove garlic
1 tbsp Champagne vinegar
1 cup extra virgin olive oil
1 tsp sugar
1 tsp lemon juice
salt and pepper to taste
Directions
Braised Pork
Place roasting pan on the stove on medium-high heat; add oil. As pan gets hot, season the pork shanks with salt and pepper.
In hot pan, brown the pork shanks on all sides and then remove from the pan.
In the roasting pan, add vegetables and sauté tell they start to sweat. Add tomato paste and mix in with the rest of the vegetables. Deglaze with the Vina Robles Tannat.
Put the shanks back in the roasting pan using the vegetables to keep the shanks off bottom of the pan. Cover the shanks with the beef stock or broth (may take less, but if more liquid is needed, water can be added).
Cover with foil and roast in oven at 350 degrees for about 2 ½ hours or until the meat starts to pull away and almost falls off the bone.
Chimichurri
Add all ingredients to blender except oil and puree. Slowly add oil. Season to taste with salt and pepper.
Serve with a Pecprino Romano cheese polenta. Divide portions of polenta onto plates and place a pork shank on polenta. Drizzle Chimichurri sauce over shank and polenta.