Bruschetta with Prosciutto, Ricotta and Arugula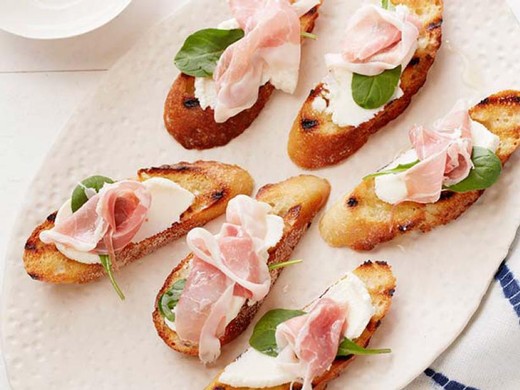 Recipe Date:
June 4, 2019
Measurements:
Imperial (US)
Ingredients
1 baguette
extra-virgin olive oil, for brushing
1 whole clove garlic, peeled, halved
1 cup fresh ricotta cheese
15 arugula leaves
4 ozs Prosciutto or other salty, cured pork such as coppa, lomo or speck
best quality extra-virgin olive oil, for drizzling
Directions
1. Heat a grill or grill pan to medium-high heat. Place the bread on a baking sheet and brush both sides with olive oil. Grill the bread until golden all over, 2 to 3 minutes per side. Rub one side of each with the garlic clove.
2. Spread a tablespoon or two of the ricotta on each bread slice, then press an arugula leaf into the cheese. Place a slice of the prosciutto on top, drizzle with the best quality olive oil, and serve.
*Recipe courtesy of The Food Network