Cabernet Braised Short Ribs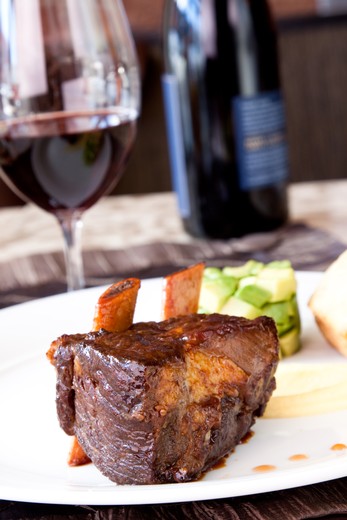 Recipe Date:
November 19, 2015
Measurements:
Imperial (US)
Ingredients
1 bottle Vina Robles Cabernet Sauvignon
4 lbs beef short ribs
3 carrots, large
1 celery
2 white onions, quartered
1 shallot, peeled
1 head garlic
1 bay leaf
4 peppercorns
1 bunch thyme
1 bunch parsley
3 quarts beef stock
4 tbsps olive oil
Directions
Preheat the oven to 350 degrees. In a medium sauce pan, heat olive oil until smoking. Add seasoned beef and sear until golden brown, flip and repeat.
In a roasting pan, make a bed of the vegetables in the bottom of the pan and place the short ribs on top of vegetables. Pour the beef stock and wine over the mix and add the shallots, garlic, bay leaf, thyme, parsley and peppercorns; wrap tightly with foil. Place in oven and cook for three to four hours or until tenderness is achieved.
Remove roasting pan from oven and take out the short ribs. Pour the liquid remaining in pan through a strainer and into a sauce pot. Reduce liquid until it coats the back of a spoon.
Serve the reduction sauce over your favorite starch or vegetables with the short ribs and enjoy with a bottle of Vina Robles Cabernet Sauvignon.