Cajun Salmon Tacos with Fresh Mango Salsa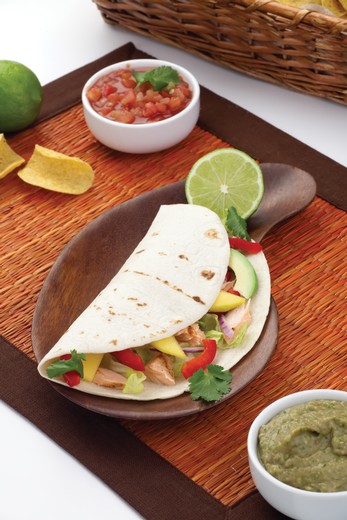 Recipe Date:
November 18, 2015
Measurements:
Imperial (US)
Ingredients
Ingredients - Salsa
1 mango, peeled, seeded and chopped
1/4 cup tomato, chopped
1/4 cup white onion, chopped
1 jalapeño, finely chopped
1 oz garlic, chopped
2 ozs cilantro, chopped
1 oz lime juice
1 tbsp salt
1 tbsp pepper, ground
Ingredients - Salmon
2 ozs canola oil
6 ozs salmon filet
2 tbsps cajun seasoning
4 corn tortillas
cabbage, shredded
Directions
Open a bottle of Vina Robles Sauvignon Blanc, Estate and pour yourself a glass!
Mix together all ingredients of the mango salsa and set aside for 20 minutes.
In a frying pan, preheat canola oil and cover salmon filet with Cajun seasoning on both sides.
Place filet skin side down in hot frying pan and cook for 3 minutes on each side until done.
Cut filet in half and place each on two grilled corn tortillas.
Serve tacos topped with shredded cabbage and mango salsa and enjoy together with the rest of the Sauvignon Blanc, Estate.