Chicken with Chocolate Sauce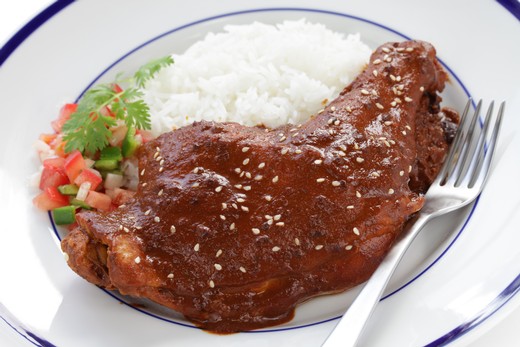 Recipe Date:
November 5, 2015
Measurements:
Imperial (US)
Ingredients
4 chicken breasts
1 tbsp "Cowboy Steak Rub" BBQ seasoning
olive oil
1/2 lb green aparagus, thin, ends trimmed off
4 ozs Parmesan cheese, grated
1 each - shallot and garlic clove, finely chopped
1/2 cup Vina Robles Syrée
1 cup beef stock
1 bay leaf
2 tbsps 80% dark chocolate, in pieces
Directions
Open a bottle of Vina Robles Syrée, and pour yourself a glass!
Preheat oven to 400 degrees. Season chicken with the Cowboy Steak Rub. Heat up olive oil in a sauté pan and sear chicken on both sides for about 2 minutes. Place chicken on a baking sheet.
Divide asparagus evenly over chicken breasts and sprinkle with Parmesan cheese. Bake chicken for approximately 18-20 minutes. Make sure chicken is cooked thoroughly but is not dry.
In the same pan, sauté onions and garlic until soft. Deglaze with wine and let simmer for about 2 minutes. Add beef stock and bay leaf and bring to a boil. Reduce liquid to approximately ¾ cup. Add chocolate and stir until melted. Sauce should have a syrupy consistency. If it is too thick, add a little bit of wine or beef stock. Season to taste with salt and pepper and keep sauce warm.
Serve chicken on warm plates and drizzle with chocolate sauce. Enjoy with the rest of the Vina Robles Syrée.
Hints
Serve with rice, mashed potatoes or pasta.

Substitute chicken with duck breast or venison loin.