Costolette D'Agnello Scottadito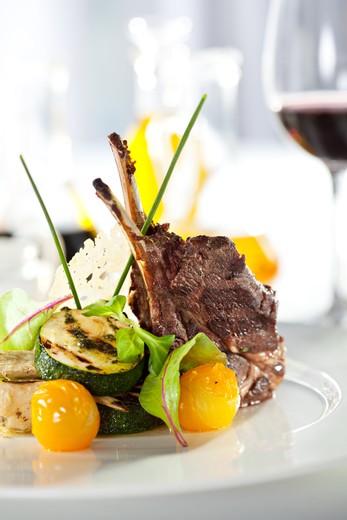 Recipe Date:
November 19, 2015
Measurements:
Imperial (US)
Ingredients
1 red apple, peeled
2 ozs butter, unsalted
1 tsp sugar
16 ozs Vina Robles Cabernet Sauvignon
4 ozs water
1 tsp chicken base
4 rack of lamb (10-12oz)
1 tsp rosemary, chopped
1 tsp thyme, chopped
1 tsp sage, chopped
salt and pepper
2 tbsps extra virgin olive oil
Directions
Open a bottle of Vina Robles Cabernet Sauvignon and pour yourself a glass!
Dice the apple and add to pot with butter. Cook slowly, adding sugar and horseradish. Add wine and let simmer for 30 minutes to reduce liquid.
Add water and chicken base and bring to a boil. Blend all together in a food processor or blender.
Marinate lamb with the herbs, salt, pepper, and olive oil. Grill lamb to your preferred temperature (medium-rare recommended). Cut rack into four pieces, every two ribs.
Serve ribs over sauce and enjoy together with the rest of the Cabernet Sauvignon, Estate.
Hints
Serve with mashed potatoes and sautéed spinach.