Crab & Avocado Towers with Gribiche Sauce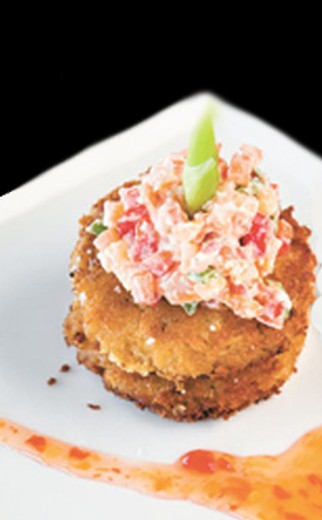 Recipe Date:
November 19, 2015
Measurements:
Imperial (US)
Ingredients
2 avocado, diced
1/2 cup celery, thinly diced
3 shallots, thinly diced
2 tsps red wine vinegar
3 eggs, hard boiled
1/2 cup French cornichons, drained (reserve brine) and chopped
1 tsp Dijon mustard
2 tsps vinegar
2 tsps olive oil
1 (bunch) tarragon, chopped (reserve 4 sprigs for garnish)
1/4 cup capers, drained and chopped
salt and pepper, to taste
1 cup crab meat
Directions
Mix the first four ingredients in a bowl and season with salt and pepper. Reserve avocado mix in fridge to keep cool.

Carefully separate the yolks from the egg whites. Thinly chop the egg whites and crumble the yolks. Chop the cornichons and mix together with the eggs. Set half aside for garnishing.

Take half of the egg and cornichon mix and add the mustard and some salt and pepper in a large bowl. Mash everything together. Add reserved cornichon brine to taste.

To this paste, add the vinegar and then the olive oil, drop by drop as if making mayonnaise. Keep the sauce creamy by adding small amounts of vinegar or warm water, as necessary. Add chopped tarragon and chopped capers to sauce.

Place a biscuit cutter in the center of a cold plate. Press a fourth of the avocado mix into the bottom of the cutter using the back of a spoon. Press an equal amount of crab meat on top. Gently lift the cutters up and away from the plate to reveal the crab and avocado towers.

Arrange the egg and cornichon mix around the towers and garnish with the sauce.

Decorate with a sprig of tarragon before serving and enjoy with Vina Robles WHITE4!