Grilled Beef Tenderloin with Gorgonzola Butter, Rosemary Potatoes and Asparagus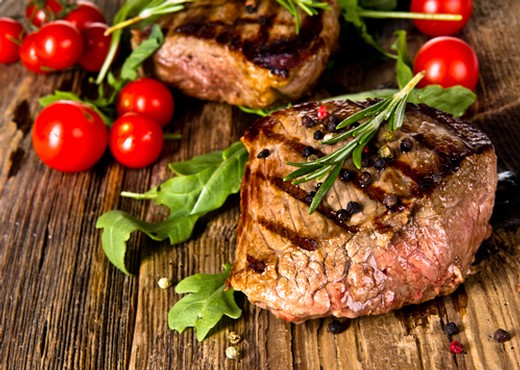 Recipe Date:
November 18, 2015
Measurements:
Imperial (US)
Ingredients
Grilled Tenderloin and Asparagus
tenderloins, trimmed (8 oz each)
asparagus, trimmed (2 oz per person)
olive oil, enough to coat asparagus and tenderloins
salt and pepper to taste
Potatoes
1 1/2 lbs red Bliss potatoes, diced
2 tbsps rosemary, fresh, chopped
1 tbsp garlic, fresh, chopped
canola oil (enough to coat potatoes)
1 tbsp thyme, fresh, chopped
salt and pepper to taste
Gorgonzola Butter
1/2 lb butter, unsalted, diced
1/4 lb gorgonzola cheese
1/2 tsp parsley, chopped
salt and pepper, pinch of each
Directions
For grilled tenderloin and asparagus - Preheat your grill. Place the tenderloins and asparagus on separate plates and coat with olive oil. salt and pepper. Cook the tenderloins to desired doneness, rare is recommended. When steaks are almost finished cooking, place the asparagus on the grill and cook through. Remove when cooked to desired doneness.
For potatoes - preheat your oven to 400 degrees. Cook potatoes in salted boiling water until you can pierce with a fork. Drain, then mix with the rosemary, garlic, oil, thyme, salt and pepper. Place on a roasting pan and cook until potatoes start to brown. Should take approximately 20 to 30 minutes.
For gorgonzola butter - place all of the ingredients into a mixing bowl of a standing mixer. Using the paddle attachment, blend until the cheese and butter becomre incorporated. Place the mixture on a piece of parchment paper or wax paper and roll into a log. Wrap paper around it and refridgerate until it hardens. Cut into discs and top your cooked tenderloins.