Grilled Lamb Chops with Pistachio Sauce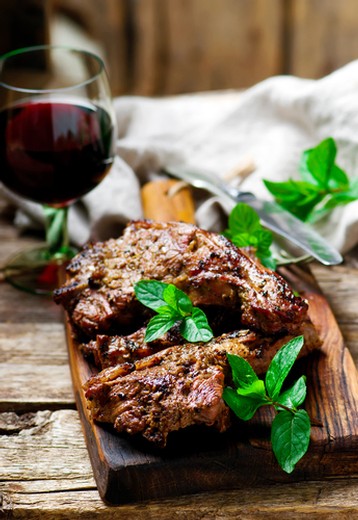 Recipe Date:
November 19, 2015
Measurements:
Imperial (US)
Ingredients
1 1/2 tsps black pepper
1 tsp thyme, fresh
1 tsp rosemary, chopped
1/2 tsp fennel seed
1/2 tsp kosher salt
1/4 cup extra-virgin olice oil
8 lamb loin chops (1 1/4
1/2 cup sugar
1/2 cup cider vinegar
1/4 cup reduced-sodium chicken broth
1/4 cup Vina Robles The Arborist
1 tsp Worcestershire sauce
1/2 cup pistachios
Directions
Open a bottle of Vina Robles The Arborist, and pour yourself a glass.
Create marinade: Stir first five ingredients together until blended. Add olive oil and lamb chops and place in refrigerator for up to two hours.
Preheat grill. For sauce, combine sugar, vinegar, broth, wine, and Worcestershire sauce in a small pan. Bring to a boil on medium-high heat. Reduce heat to simmer and cook for ten minutes.
Process pistachios in a food processor or crush to your liking. Stir into sauce and cook for an additional two minutes to blend flavors. Remove from heat and set aside.
Place lamb chops on preheated grill. Grill for 3-4 minutes on each side or until lamb reached an internal temperature of 145°F (for medium-rare).
Serve sauce over lamb chops and enjoy together with the rest of the The Arborist.
Hints
Serve over simple couscous.