Grilled Sausage Flatbreads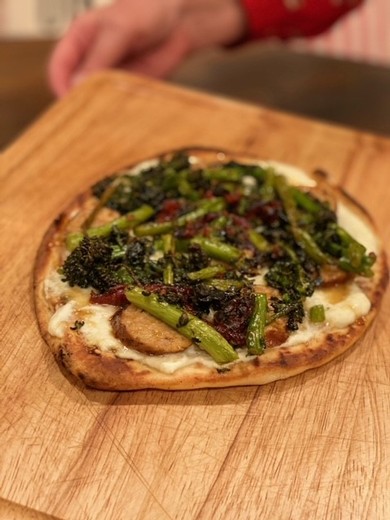 Recipe Date:
February 24, 2021
Measurements:
Imperial (US)
Ingredients
1/2 cup honey
2 fresh rosemary sprigs
1 bunch broccoli rabe, trimmed, with larger stems split lengthwise
3 Italian sausages, sliced, grilled or pan-fried, casings removed
3 tbsps extra virgin olive oil (plus a bit for roasting the broccoli rabe)
2 garlic cloves, chopped
1/4 tsp crushed red pepper
1/4 cup sun-dried tomatoes, thinly sliced
1/2 tsp salt
1/4 tsp pepper
2 naan flatbreads
1 cup whole-milk ricotta cheese
4 ozs Pecorino Romano or Parmesan cheese, grated
Directions
Preheat oven to 400° F.
Stir together honey and rosemary sprigs in a small saucepan over medium-low heat, bring to a gentle simmer. Reduce heat to low and simmer for 10 minutes. Remove from heat, remove and discard the rosemary. Set sauce aside and let cool.
In a medium bowl, drizzle broccoli rabe with olive oil and season with salt and pepper. Spread on a baking sheet and roast in the oven for about 20 minutes, until it is slightly brown around the edges. When cool enough to handle, chop into bite size pieces.
Heat the 3 tablespoons of olive oil in a medium skillet. Add garlic and red pepper and cook, stirring occasionally, about 2 minutes. Stir in the broccoli rabe and sun-dried tomatoes. Cook until heated through, then season with salt and pepper.
Using a charcoal grill, gas grill, or cast-iron grill pan, grill the flatbreads on both sides.
Spread the ricotta cheese on one side of the two flatbreads and sprinkle with the Pecorino Romano cheese. Add the sausage slices then top evenly with the broccoli rabe mixture. Cover and grill (or bake) until cheese is melted, about 3 minutes. Remove and drizzle with the honey rosemary sauce before slicing and serving.
Note: Par-baked fresh pizza dough may be substituted for the naan flatbread.