Braised Lamb Shanks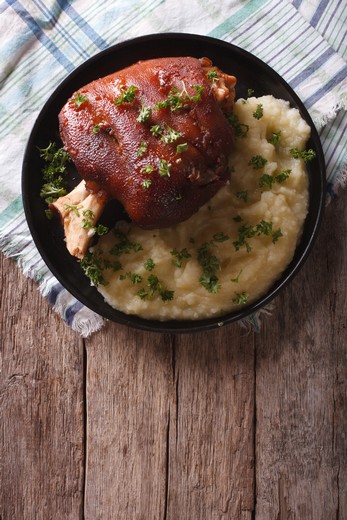 Recipe Date:
November 19, 2015
Measurements:
Imperial (US)
Ingredients
6 lamb shanks
2 tbsps butter
salt and pepper to taste
3 carrots, chopped
2 brown onions, chopped
9 garlic cloves
2 tbsps olive oil
1 can tomatoes, whole and peeled
1 bottle Vina Robles Petite Sirah
beef stock (equal parts wine to stock)
1 sprig fresh rosemary
1 sprig fresh thyme
Directions
Open a bottle of Vina Robles Zinfandel and pour yourself a glass!
Sear all sides of shank in a sauté pan with butter; season with salt and pepper.
Heat up a roasting pan on the stove and sauté onions, carrots, garlic and olive oil until cooked and a little brown. Add tomatoes, red wine and the same amount of beef stock as well as the fresh herbs. Add the shanks and bring to a boil, then reduce to a simmer.
Simmer until tender, approximately two hours (you can simmer either on the stove or in the oven at 300 degrees). When tender, remove shanks and set aside.
Using the same roasting pan, reduce liquid from the shanks until it forms a sauce-like consistency.
Serve sauce over shanks and enjoy together with the rest of the Vina Robles Petite Sirah.
Hints
Serve with risotto or roasted potatoes.