'Jamakin Luv' Rack of Lamb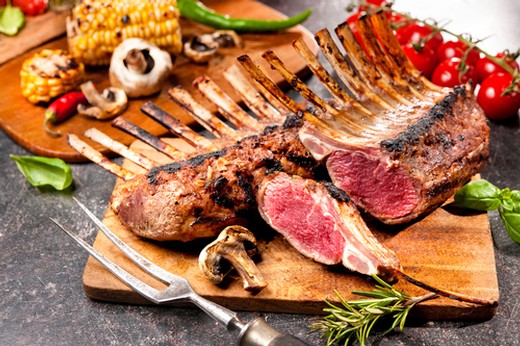 Recipe Date:
November 5, 2015
Measurements:
Imperial (US)
Ingredients
Rack of Lamb
1 cup oil
1 large yellow onion, chopped
3 scallions, chopped
2 jalapeño peppers, roasted and diced
1 habanero pepper, seeds removed and diced
1 tbsp ginger, freshly grated
4 tbsps garlic, chopped
2 tbsps thyme, finely chopped
1/4 cup red wine vinegar
1 tbsp light brown sugar
1/4 tsp nutmeg, ground
pinch cloves, ground
1 tsp Allspice, ground
1/2 tsp salt
1/4 tsp black pepper, freshly ground
1 tbsp lime juice, freshly squeezed
lamb chops (loin, rib or sirloin; about 1
2 cups Vina Robles Syrée
1 sprig rosemary
1 sprig sage
Creamy Mint Yogurt Dipping Sauce
1 cup plain Greek yogurt
1/2 cup mint leaves, chopped
1 tbsp garlic, minced
1 tbsp lemon juice, freshly squeezed
salt and pepper
Directions
Open a bottle of Vina Robles Syrée, and pour yourself a glass!
Purée Oil, onion, scallions, jalapenos, habanero, ginger, garlic, thyme, red wine vinegar, light brown sugar, nutmeg, allspice, salt, black pepper and lime juice in a food processor until blended together and almost creamy. Place the lamb chops in a large glass dish with a lid or plastic container. Hand whisk together marinade, red wine, rosemary, and sage and pour over the meat. Cover and refrigerate for one to two days depending on how intense you would like the flavors to be. Turn the lamb over once or twice while marinating.
Combine all the ingredients for the dipping sauce (greek yogurt, mint leaves, garlic, lemon juice, salt and pepper) in a large bowl and season with salt and pepper to taste. Let sit at room temperature for 30 minutes before serving to allow flavors to come together.
Grill lamb chops on a covered grill over medium-high heat for about 2 to 5 minutes on each side until they reach an internal temperature of 140 degrees (medium-rare/medium).
Let the meat rest for a few minutes and arrange on plates. Enjoy together with the rest of the Vina Robles Syrée.
Hints
Substitute jalapeño peppers with Serrano Chiles or use one of each.
Prepare dipping sauce one day ahead. Keep covered in refrigerator; bring to room temperature 1 hour prior to serving.