Lavender-Chocolate Brownies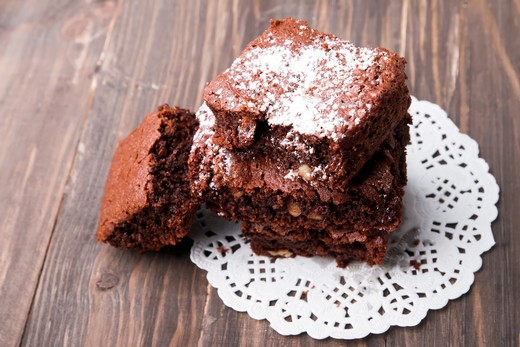 Recipe Date:
April 27, 2016
Measurements:
Imperial (US)
Ingredients
3/4 cup Unsalted butter, at room temperature
5 ozs Unsweetened chocolate, finely chopped
2 Vanilla beans, scraped
4 Large eggs
2 cups Granulated sugar
2 tbsps Lavender buds (adjust to liking)
1/4 tsp Salt
1 cup All-purpose flour
Directions
Preheat oven to 325 degrees and pour yourself a glass of Vina Robles Petite Sirah!
Line a 9 inch square baking pan with aluminum foil and grease with butter.
In a metal or glass bowl, combine the butter, chocolate and vanilla seeds. In a saucepan, bring about an inch of water to a low boil. Place the bowl over the saucepan and stir occasionally until the chocolate is melted and smooth, about 3-4 minutes. Set bowl aside and let mixture cool slightly.
In a large bowl, beat eggs and sugar. Whisk in the chocolate mixture, lavender buds and salt, until mixture is evenly colored. Gradually blend in flour.
Spread batter into prepared pan. Bake in preheated oven for 30-35 minutes. These brownies are done when a toothpick inserted into the center still has a few moist crumbs on it. Transfer to a wire rack, let cool and cut into pieces.
Enjoy the Lavender-Chocolate Brownies with Vina Robles Petite Sirah!
Hints
Use 1 tbsp vanilla extract instead of fresh vanilla beans.

Reduce the amount of sugar for a brownie less sweet.

For an extra chocolaty taste, add ½ cup of chocolate chips with the flour.