Linguine with Crab and Asparagus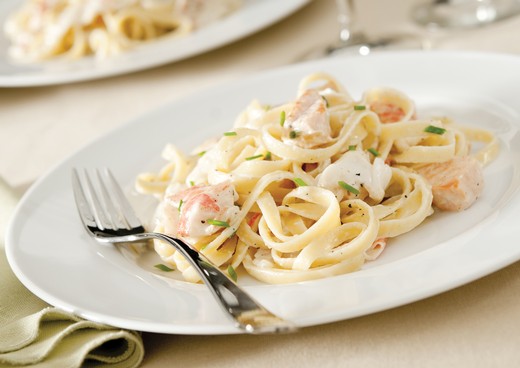 Recipe Date:
June 29, 2017
Measurements:
Imperial (US)
Ingredients
1 lb linguine
1 tbsp minced garlic
1 oz white wine
4 basil leaves, chiffonade cut
1 tsp Italian parsley, chopped
2 tbsps extra virgin olive oil
1 lb asparagus
1 tbsp butter
1 tsp chili flakes (optional)
8 ozs cooked crab meat (preferably King or Snow Crab)
Directions
Bring a large pot of salted water to boil and cook pasta until al dente. Drain, reserving 1 cup of pasta water.
In a large sauté pan over medium heat add olive oil, garlic and asparagus. Sauté for 3 minutes, then deglaze with white wine.
Add butter, basil, chili flakes, and crab meat.
Toss pasta into sauce and season to taste. Add a little of the pasta water, if needed.
Top with chopped Italian parsley.