N.Y. Steak with Dried Cherry Sauce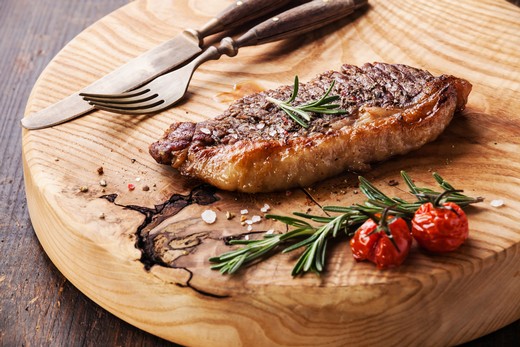 Recipe Date:
November 19, 2015
Measurements:
Imperial (US)
Ingredients
4 New York steaks (8-10oz each)
2 tbsps olive oil
2 tbsps Cowboy Steak Rub
1 cup Vina Robles Cabernet Sauvignon
1 cup beef stock
1/2 tsp sea salt & cracked black pepper
1/2 cup cherries, dried
1 tbsp rosemary, finely chopped
1 tbsp butter, cold
Directions
Open a bottle of Vina Robles Cabernet Sauvignon, and pour yourself a glass!
Brush steaks on both sides with olive oil and season with Cowboy Steak Rub. Cover with plastic wrap and marinade in the refrigerator for approximately 2 hours. Make sure to take the steaks out of the refrigerator at least 30 minutes prior to grilling.
In a small pot, combine Vina Robles Cabernet Sauvignon, beef stock and seasoning. Bring to a boil. Add the cherries and reduce heat to low. Let simmer slowly for approximately 20 minutes.
Grill the New York steaks to your liking (medium-rare recommended), and let rest for 5 minutes.
Add rosemary and butter to the cherry sauce and stir until butter is incorporated. Season to taste.
Serve steaks with sauce on warm plates, and enjoy with the rest of the Vina Robles Cabernet Sauvignon!
Hints
Substitute New York steaks with Rib-Eye steaks or Filet Mignon.
Serve with grilled asparagus and roasted or baked potatoes.