Osso Bucco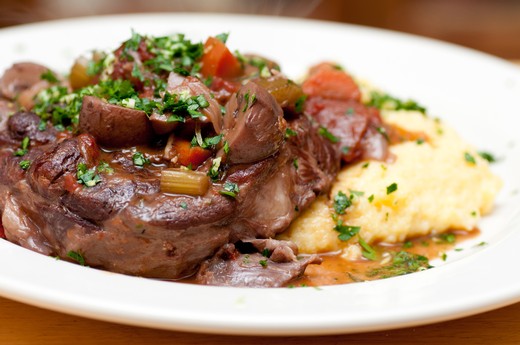 Recipe Date:
November 18, 2015
Measurements:
Imperial (US)
Ingredients
4 veal shank cuts (2 inches wide, cut horizontally across the bone)
sea salt & cracked black pepper
1 tbsp olive oil
1 tbsp all-purpose flour
2 carrots, diced into small cubes
5 ozs root celery, diced into small cubes
1 each - red onion and garlic clove, finely chopped
2 tbsps tomato paste
1 cup Vina Robles Syrée
1 small can tomatoes, diced
3 cups beef broth
2 bay leaves
1 tsp basil, dried
1 small can black olives, pitted
Directions
Season each veal shank with salt and pepper. In a large pan with a high rim, heat olive oil and sear the meat for approximately 2 minutes on each side, dredge in flour, and set aside.
Open a bottle of Vina Robles Syrée, and pour yourself a glass!
In the same pan, cook the vegetables, stirring occasionally for about 5 minutes. Add the tomato paste and cook for another 3 minutes. Deglaze with Vina Robles Syrée and reduce by half.
Add the diced tomatoes, bay leaves and basil, stir and return shanks to the pan (make sure the shanks are evenly spread out over the vegetables). Add the beef broth, season to taste and bring to a boil. Reduce heat to low, cover pan and simmer for about 1 ¾ – 2 hours or until the meat is falling off the bone. If the level of cooking liquid reduces too much, add more beef broth.
Add the black olives and simmer for another 10 minutes. Serve the Osso Bucco with sauce on warm plates and enjoy with the rest of the Vina Robles Syrée!
Hints
Vina Robles "Gremolata": Sprinkle Osso Bucco with finely chopped orange peel & fresh parsley.
Serve with risotto, mashed potatoes, or your favorite pasta or veggie dish.