Oven-Roasted Ratatouille with Shaved Pecorino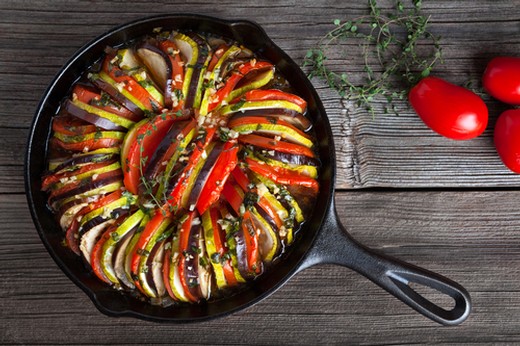 Recipe Date:
November 18, 2015
Measurements:
Imperial (US)
Ingredients
1 medium Italian globe eggplant, about 3/4 lb., stemmed, cut into 1
1 large zucchini squash, about 1/2 lb., halved lengthwise, cut into half moons
1 medium red onion, peeled, halved and thinly sliced
1/2 lb cremini mushrooms, wiped clean and quartered
1 medium yellow bell pepper, stemmed, seeded, cut into 1
8 tbsps olive oil, divided
3 cloves garlic, peeled and minced
1 cup favorite bottled pasta sauce
3 tbsps capers
2 tbsps kalamata olives, pitted and halved
Kosher salt and freshly ground black pepper to taste
3 ozs Pecorino cheese, for shaving
Directions
Preheat oven to 350°F.
In a large bowl, combine the chopped eggplant, squash, red onion, mushrooms and bell pepper. Toss with 6 Tbsp olive oil and kosher salt and pepper to taste.
Spoon the vegetables and any oil onto a cookie sheet and roast in the overn 30 to 40 minutes until the eggplant is tender and golden brown. Remove the vegetables from the overn.
In a skillet large enough to hold all the vegetables, heat the remaining 2 Tbsp olive oil and sauté the garlic just until fragrant. Do not let the garlic brown.
Using a spatula, scrape the eggplant mixture into the skillet with the garlic and stir gently. Add the pasta sauce, capers and olives and bring to a simmer. Simmer over low heat for five minutes to blend the flavors. Taste for seasoning, remembering that the capers and olives are salty. Add kosher salt and freshly ground black pepper to taste.
Let the ratatouille cool and serve at warm room temperature. Shave the pecorino over the ratatouille just before serving. Reheat any leftover ratatouille, or serve chilled. This recipe is delicious as a side dish with roasted chicken or pork, or as a vegetarian main course.