Petite Sirah Glazed BBQ Pork Ribs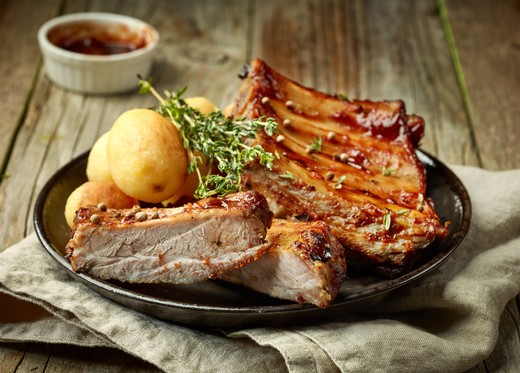 Recipe Date:
November 19, 2015
Measurements:
Imperial (US)
Ingredients
2 racks pork ribs, St. Louis style cut
2 tbsps olive oil
1 tsp each, dried oregano & dried basil
1/2 tsp black pepper, cracked
1 oz Vina Robles Petite Sirah
2 tbsps honey
2 tbsps balsamic vinegar
1 tsp instant coffee
Directions
Open a bottle of Vina Robles Petite Sirah, Jardine, and pour yourself a glass!
Brush both sides of the ribs with olive oil. Combine house rub, dried herbs and cracked pepper, and season ribs on both sides; "rub it in!" Cover with plastic wrap and let marinade for approx. 2 hours.
BBQ ribs on medium heat for approximately 20 minutes, turning occasionally.
Mix all the ingredients for the glaze in a small bowl and start glazing the ribs with it while still grilling the ribs on low heat for about another 15 minutes.
Let ribs rest for approximately 5 minutes. Cut into pieces and serve while still warm. Enjoy with the rest of the Vina Robles Petite Sirah, Jardine.
Hints
Serve with rice, mashed potatoes, baked potato and / or grilled veggies.