Seared Diver Scallops with Roasted Grapes, Crispy Fried Leeks and Maple Glaze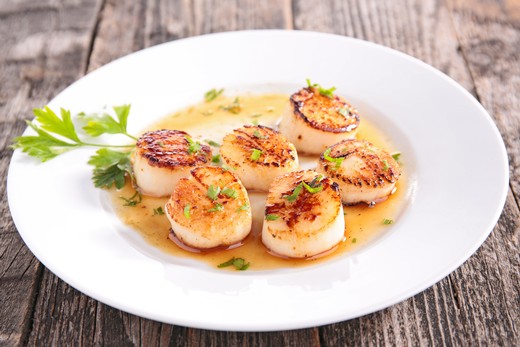 Recipe Date:
April 27, 2016
Measurements:
Imperial (US)
Ingredients
2 Large leeks, tops removed, washed and sliced thin
3 cups Grape seed oil
1 Bunch green grapes
1 Bunch red grapes
1 tsp Black pepper, freshly ground
2 tsps Salt
1 tbsp Olive oil
1 cup Maple syrup, 100%
1 tbsp Lemon juice
2 tbsps Sweet cream butter
1/2 tsp Salt
10 Diver scallops, cleaned and patted dry with a clean towel
2 tbsps Grape seed oil
Salt
Black pepper, freshly ground
Directions
In a shallow sauté pan, add the leeks and cold oil. Cook over high heat until the leeks began to turn golden brown. Remove leeks carefully and place in a strainer with paper towels to remove grease. Reserve and set aside for garnish.
Preheat oven to 350 degrees. In a mixing bowl, toss grapes, oil, and salt & pepper until they are well coated. Place on a baking sheet and roast in the oven for 10-15 minutes (just until they start to plump and split slightly.)
In a small sauce pot bring the syrup, lemon juice and salt to a simmer. Remove from heat. Add butter and reserve for scallops.
Preheat the oven to 450 degrees. Over high heat, place a large sauté pan. Heat the pan until it is smoking hot, add the oil, then season the scallops with salt and pepper evenly on both sides. Carefully place the scallops flat side down into the oil. Sear scallops until golden and caramelized. Flip onto other side and place the whole pan into the preheated oven to cook for 4 minutes exactly. Remove and garnish with Maple Glaze and reserved Cold Fried Crispy Leeks.