Seared Salmon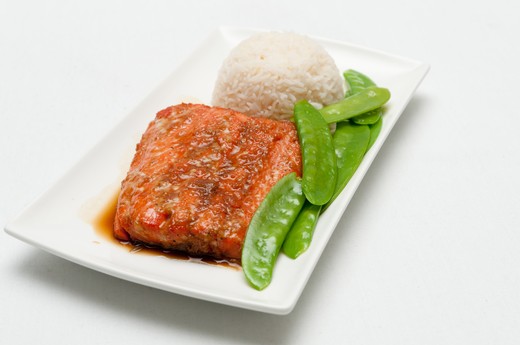 Recipe Date:
April 27, 2016
Measurements:
Imperial (US)
Ingredients
3 cups water, salted
1 cup Vina Robles Chardonnay
1 cup rice
1 small red bell pepper, cut into small cubes
1 tbsp olive oil
4 filets fresh salmon (approx. 6 oz each)
1/2 tsp salt & pepper
1/2 lb snow peas, cut lengthwise into thin strips
1 1/2 tbsps soy sauce
2 ozs salted sunflower seeds, toasted
Directions
In a medium sized pot, bring the water and ½ cup of the Vina Robles Chardonnay to a boil.
Add rice and diced peppers. Cover, reduce heat, and let simmer until all the water is absorbed (approximately 20 minutes).
Pour yourself a glass of Vina Robles Chardonnay!
Heat olive oil in a large non-stick skillet. Season the salmon filets with salt and pepper and sear for approximately 2 minutes on each side. Remove fish from pan, put on a plate and cover.
Add snow peas to skillet, and sauté on high for about 3 to 4 minutes. Add the reserved ½ cup of Vina Robles Chardonnay and the soy sauce. Add salmon fillets back to pan, on top of the snow peas, cover and cook for 3 to 4 minutes.
Serve salmon and peas with rice on warm plates. Garnish salmon with sunflower seeds, enjoy!
Hints
Use Teriyaki sauce instead of soy sauce.
Substitute salmon with your favorite fish.