Smashed Peas on Toast - Pair with 2020 Albariño, Huerhuero Vineyard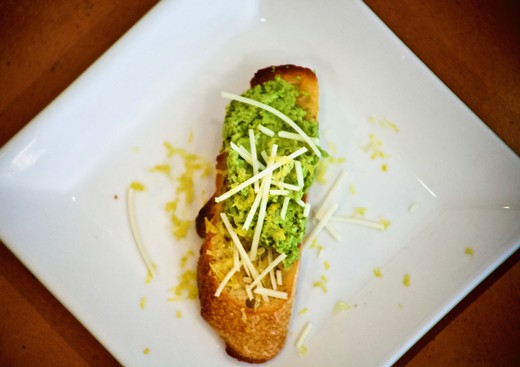 Measurements:
Imperial (US)
Ingredients
2 lbs green peas, fresh or frozen
3 tbsps fresh mint, coarsely chopped, plus additional for garnish
1 tsp lemon zest, plus additional for garnish
1/2 tsp kosher salt
1/2 cup Parmesan Reggiano cheese, grated, plus additional for garnish
2 tbsps fresh lemon juice
2 tbsps extra virgin olive oil, plus additional for garnish
1/4 tsp black pepper
1 baguette, sliced and toasted
Directions
Bring a medium saucepan of water to a boil over medium-high heat. Prepare an ice bath in a large bowl and set aside. Add peas to saucepan and boil until tender, 2-3 minutes. Drain and immediately immerse peas in ice bath. Let stand 2-3 minutes and drain.
Add the mint, lemon zest, salt, cheese, and half the peas to the bowl of a food processor. Pulse to a coarse paste. Add remaining peas and pulse until chunky. For a smoother consistency, pulse a little longer. Transfer to a bowl and stir in lemon juice, olive oil and pepper. For a creamier spread, add another 1-2 tablespoons of olive oil. Season with additional salt and pepper to taste.
Slather toasted baguette slices with spread. Garnish with lemon zest, cheese and mint, then drizzle with olive oil.
Serve with 2020 Vina Robles Albariño, Huerhuero Vineyard