Spring Farro Salad - Pair with 2019 The Arborist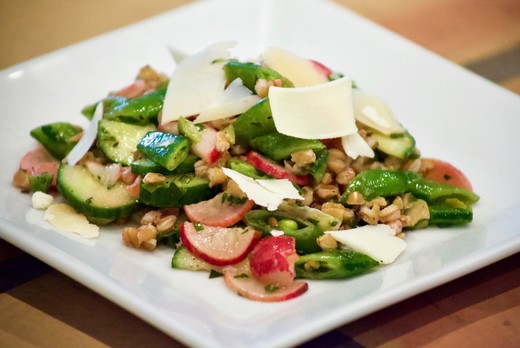 Measurements:
Imperial (US)
Farro has a sweet, earthy flavor and adds a nice hardiness to fresh, crunchy vegetables. Hearty enough to be a standalone meal, this salad also shines when served alongside grilled salmon, chicken or steak.
Ingredients
Ingredients – Dressing
1/2 cup extra virgin olive oil
3 tbsps fresh lemon juice
2 tsps apple cider vinegar
1 1/4 tsps sea salt
1/2 tsp honey
1/4 tsp crushed red pepper flakes
Ingredients – Salad
4 cups 4 cups vegetable broth (or water)
1 cup uncooked pearled farro
3/4 tsp sea salt
1 bunch radishes, halved lengthwise then thinly sliced
1 English cucumber, quartered lengthwise then thinly sliced
1 cup sugar snap peas, thinly sliced on an angle
1/2 cup pitted Castelvetrano olives, roughly chopped
1/4 cup flat leaf parsley, roughly chopped
1/4 cup chives, roughly chopped
1/2 cup Pecorino Romano or Parmesan cheese, shaved
Directions
For the dressing, whisk together all ingredients in a small bowl and set aside.
Bring the vegetable broth (or water) to a boil in a medium pot over medium-high heat. Stir in the farro and salt. Reduce heat to medium-low and simmer partially covered, until farro is tender, 22 to 26 minutes. Drain and rinse under cold water. Shake dry then transfer to a large bowl to cool completely, about 30 minutes.
Add the vegetables and herbs to the cooled farro, then stir in ½ cup of the dressing. Let stand at room temperature for at least 30 minutes.
Just before serving, stir in the remaining dressing, season with salt, top with the cheese.
Serve with 2019 Vina Robles The Aborist. This spring salad brings out the dark stone fruit flavors of this versatile food-friendly red blend.