Steamed Mussels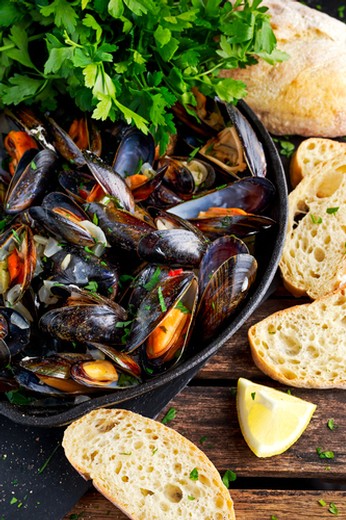 Recipe Date:
November 19, 2015
Measurements:
Imperial (US)
Ingredients
3 tbsps olive oil
1 small red onion, diced
7 ozs pineapple, cut into small cubes
3 lbs black mussels, cleaned, well rinsed
1 cup Vina Robles Viognier
1 cup heavy whipping cream
1/4 tsp sea salt, cracked black pepper
1 cup cherry tomatoes, halved
1/2 bunch cilantro, roughly chopped
Directions
Heat the olive oil in a large, deep frying pan. Add the onions and the pineapple, and sauté on high heat for approx. 2 minutes.
Add the mussels, stir, and deglaze with the Vina Robles Viognier. Cover the pan with a lid and let steam on high heat for about 2 minutes. Uncover, add cream, seasoning and tomatoes, cover again and let steam for another 3-4 minutes. Stir occasionally, until mussels are opened.
Sprinkle with cilantro, and serve mussels with the sauce in small bowls.
Do not eat mussels that are still closed!
Enjoy with the rest of the Vina Robles Viognier.
Hints
Serve with crispy French baguette
Substitute black mussels with steamer clams or your favorite shellfish.