Vermicelles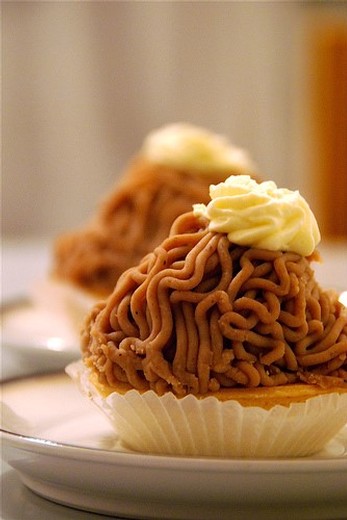 Recipe Date:
October 5, 2016
Measurements:
Imperial (US)
A traditional Swiss harvest dessert made from chestnut purée.
Ingredients
1 3/4 lbs chestnuts (peeled)
2 cups milk
5 tbsps sugar
4 tbsps Kirsch (cherry schnapps)
1 tbsp vanilla sugar
1 cup whipping cream
small pie-crust tarts or meringues (optional)
Directions
Wash chestnuts & cut lengthwise. Add to boiling water, boil covered for 5 minutes. Remove from water & peel.
Cook peeled chestnuts in milk until soft but chunky (approx. 40 minutes). Add 3 tbsp of sugar & Kirsch, then purée.
Add whipping cream, 2 tbsp of sugar & vanilla sugar, then whisk stiff. Add whipped cream into the tarts.
Push chestnut paste through a passe-vite or ricer directly into tarts.
Decorate with whipped cream and a cherry if desired.
Hints
Instead of whipped cream try this recipe: mix 1 yogurt with 2 grated apples, juice of half a lemon and 2 - 4 tbsp of sugar.